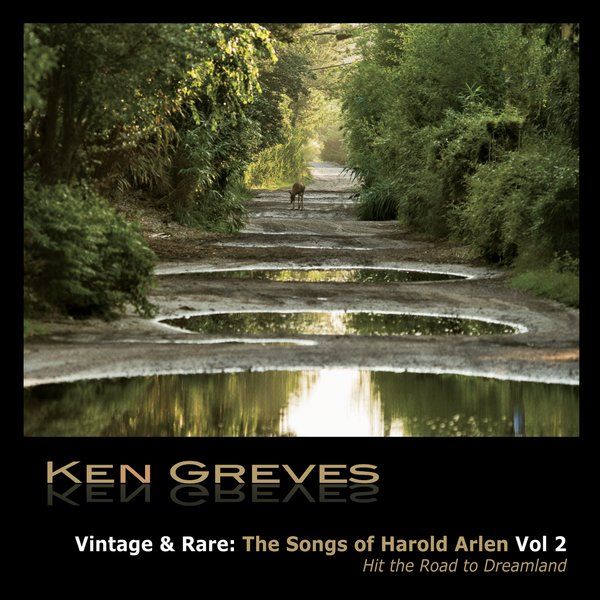 Vintage & Rare: The Songs of Harold Arlen Vol. 2 Hit the Road to Dreamland
"Falling in love with Harold Arlen… Again My baptism into Harold Arlen's musical world was as a tender 14-year-old. We were about to go on a family holiday. As the suitcases were being loaded into my grandfather's Mercury 8, I was twiddling with the radio dial and unexpectedly chanced upon some heartbreaking but absorbing music. A slow, heaving ballad was soaring by the second. Then responding to the yelps from the brass, a pair of trombones barged in with exquisite syncopations and before I could catch my breath I was sitting goggle-eyed as strings and percussion set out helter-skelter for a fugal riot. "I must have this", I thought to myself, and with one fell swoop my £2 holiday money was spent – though the other guests at The Royal Hotel didn't thank me when I commandeered the ballroom radiogram for a sampling of my much-prized LP acquisition. The work in question was "Somewhere Over the Rainbow" from the film The Wizard of Ozin a still-unrivalled Decca recording by the original cast of the movie. Of course this iconic version was sung by Judy Garland. It's powerfully haunting music that for me served as a soundtrack for images of profound sadness and loss, the chilling loneliness of an unpalatable world where love had gone missing and there was no pay-off at the end. It was a life-changing moment. And now I have the opportunity to rediscover that moment in time that meant so much for me. With Vintage and Rare: The Songs of Harold Arlen  - Volume 2, the many magical moments spring from this magnificent disc through the voice of the ineffable Ken Greves.
Greves has embarked on a proverbial odyssey, the ambitious task of paying tribute to Harold Arlen in a manner that no one has ever done before. He is set to document the oeuvre of Arlen in ten volumes – and that will mean having all of Harold Arlen's work. It will be no mean achievement when it is completed. But more than anything else—more than making a "complete works of Harold Arlen"—Greves will be putting his extraordinary vocalastics to bring Arlen's magnificence back to life.
I am aware that many musicians have attempted to bring Arlen's work to life playing instrumental and vocal versions. However, few have the deep feeling and attachment to Arlen. Few, that is, like Ken Greves. You might think that here I am, writing notes for a vocalist and musician, and that I must sing his praises, but Ken Greves has earned every bit. He positions himself in a secret space where only he and Arlen exist.
Greves worships at the altar of creativity and originality and so every time he sings he is creating an astonishing masterpiece. Greves began his complete Arlen series in 2012 with such celebrated works as "A Sleeping Bee", "You Or No One" and "Sing My Heart" before turning his sights to "Today I Love Ev'rybody" written with Dorothy Fields, "Anywhere I Hang My Hat Is Home" written with Johnny Mercer and "Last Night When We Were Young" with E.Y. "Yip" Harburg and nine more intimate and joyous other songs. An obsessive perfectionist Ken Greves has polished these fine works into gleaming gems. As a true musician he uses his instrument—the voice—idiomatically and is never flashy unlike many other more flamboyant singers of his generation.
I have enjoyed every one of the songs of Volume 1. That last set more than lived up to its expectations and this volume is no different for me. Greves parlays with Arlen with the familiarity of a friend, yet his singing always retains that sense of gracious etiquette associated with the nobility of a modern musician for which the music was intended. Nothing is forced or exaggerated, or overly mannered; tempos, effortlessly and intuitively right. The music of the accompanists – pianist and music director Wells Hanley, bassist Peter Donovan and drummer Jacob Melchior -- all add warmth to the recording and that is how they should be; sincere and poised accounts, a fitting tribute—along with Greves—to the chaste and faultless character of the composer and his music. But again, most of all, Ken Greves gets into the skin of these long-limbed masterpieces, performing with a lovely, flexible sense of timing like he did before. Greves floats exquisitely limpid lines in the graceful and playfully contagious "Today I Love Ev'rybody" allowing it to effortlessly unfold. The always sensitive singer brings his velvety sound to the profoundly beautiful "As Long As I Live" that Arlen wrote with Ted Koehler for their last show at the Cotton Club Parade, in 1934, which moves effortlessly into its delightful later episode, "There's a Sweet Wind Blowin' My Way" another beautiful melody that became a gem with lyrics by "Yip" Harburg. There's a visceral excitement that continues through the disc. "In Your Own Quiet Way" is a rare number with Harburg. Here Greves sings so many quarter notes, relying not on pitch so much as he does on colour and texture; the story unfolds warmly and with astounding spontaneity. The Arlen story—for it is just that—continues as Greves unleashes ardent melodies without fuss. This is done with a forward drive in "When the Sun Comes Out", sung here with melismatic beauty and deliberate gestures and brightness to it and brings a huge range of colours to the song, aided, no doubt, by a magnificent pizzicato bass solo. "Anyplace I Hang My Hat is Home" is usually sung by a female character as Arlen would have it, but here Ken Greves makes it truly his own and does so with magnificent angularity. Just when you thought I would never hear the astounding arco playing of Peter Donovan, "A Willow in the Wind" comes along with a profoundly beautiful opening and vocals by Greves, to match.   Greves and Donovan meet the demands of the piece with a sense of depth and spaciousness, taking it to an almost orchestral scale. "Fancy Free" from the motion picture "Girl of the Year" is exquisitely eloquent as Greves dances his way through the lyrics. Once again you catch the vocalist telling a story as no other and holding that last note with strength and beauty. On "It's A New World" that Arlen wrote with Ira Gershwin, Greves visits the heart, his voicing here is expertly balanced with piano, bass and drums—most sensitively played by Jacob Melchior. Another classic ballad "Hit the Road to Dreamland" begins soulfully before the blues unfolds with heartfelt beauty. "You're a Builder Upper" comes after a series of slow burners and it's a timely reminder that Arlen could also be immensely playful while also being able to deliver a message. The vocalese at the end shows another side of Greves in rather spectacular fashion. We're back to sliding quarter notes and dreamy vocalastics as "Last Night When We Were Young" brings balladry as never before. This is how the record ends. You are left breathless and alone once again, to ponder the genius of Harold Arlen and the mastery of Ken Greves as he delivers another beautiful part in the Arlen story. And you can't help but want more. Eleven songs suddenly seem so insufficient. But look on the upside. More is on its way. Ken Greves is dedicated to something of bottomless beauty. I am transported to the land of Oz again and to my discovery of the magnetism of Harold Arlen. Only this time I am not alone anymore. My solitary enjoyment of Harold Arlen has exploded like the Spring that surrounds me. I open the windows of my sun-room where I listened to this disc over and over again, finding new twists and turns in this lovely journey to admire. But most of all, I am seduced by Ken Greves as I secretly jumped aboard his melodic ship. I give in to the seduction. I can do nothing, nor want to do anything to free myself from being Greves' happy prisoner. All I want to do is soak in the brilliance of this album for I know now that when it comes to Broadway and its connection with the jazz world, Arlen has few rivals. And Ken Greves is making that connection to more fans of Broadway and the world of Jazz as if an old dream is coming to new life. Raul d'Gama www.latinjazznet.comEditor: www.theworldmusicreport.com  Author of the book The Unfinished Score - The Complete Works of Charles Mingus   " - Raul D'Gama 
— Liner Notes For Vintage & Rare: The Songs of Harold Arlen Volume 2